So you've gone and learned not just how the frontend works but also the backend, and you're now a skilled full-stack developer—nice work!
You've dipped your toe in the job market, prepared for any tricky interview questions, and are nearing the final hurdle—the salary negotiation. But how do you know how much to ask for?
Because of their broad knowledge and flexibility, full-stack developers are heavily in demand across the tech industry. With over 19,000 open positions for this role in the US alone, it's safe to say that you'll be popular. And with that popularity, you can expect a rewarding salary.
In this article, we'll take a look at the current hiring landscape for full-stack web developers, then assess wages across the globe. Next, we'll break the average full-stack developer salary down by coding language and by industry. Finally, we'll share some tips on salary negotiation, so that you walk away from the table satisfied.

1. What is the full-stack developer job market like?
Short and sweet: very, very good.
In the US, the Bureau of Labor Statistics predicts a jaw-dropping 23% growth in the job outlook for web developers between 2021 and 2031, and an equally impressive 25% for software developers.
Of those, being able to create and maintain a system from start to finish, frontend to backend, is seriously valued. Right now, it's safe to say full-stack developers are sitting pretty in the job market.
In terms of the different remunerations you can expect within the full-stack developer role, the amount of experience you have can really help decide your pay packet. In the US, the starting salary for a senior full-stack developer can be $30,000-60,000 more than for juniors, which are pretty high to begin with.
Any senior developer will tell you that this is just reward for all of the hard work that goes into it. To get a look at the earning potential of other types of web developer roles, we've already crunched the numbers in our comprehensive web developer salary guide.
Once you get your first junior web developer job, you should be constantly looking to expand your skillset, whether that's learning new languages or new frameworks.
Once you can prove that you're an experienced industry professional both inside your company and in the community, a senior full-stack developer salary should be within your grasp. Here are the average salaries by job title according to Glassdoor:
Junior full-stack developer: $77,524
Junior full-stack engineer: $94,644
Senior full-stack developer: $145,277
Senior full-stack engineer: $

161,900
Note: To keep things consistent, this article will show all figures in US dollars. If you're based outside of the US, here's a simple currency converter that you might find helpful.
2. Full-stack developer salaries around the world
Even with remote working becoming more and more commonplace, with the majority of full-stack roles not requiring you to come into an office five days a week, geography is still the biggest factor in deciding how much you earn.
This global data has been collected by Glassdoor, to give you an idea of the average full-stack developer salary you can expect to receive around the world.
Australia: 103,000 AUD ($69,119 USD)
Canada: C$81,006 ($60,285 USD)
Germany: €60,995 ($66,065 USD)
India: Rs 793,500 ($9,718 USD)
UK: £52,380 ($63,382 USD)
USA: $86,850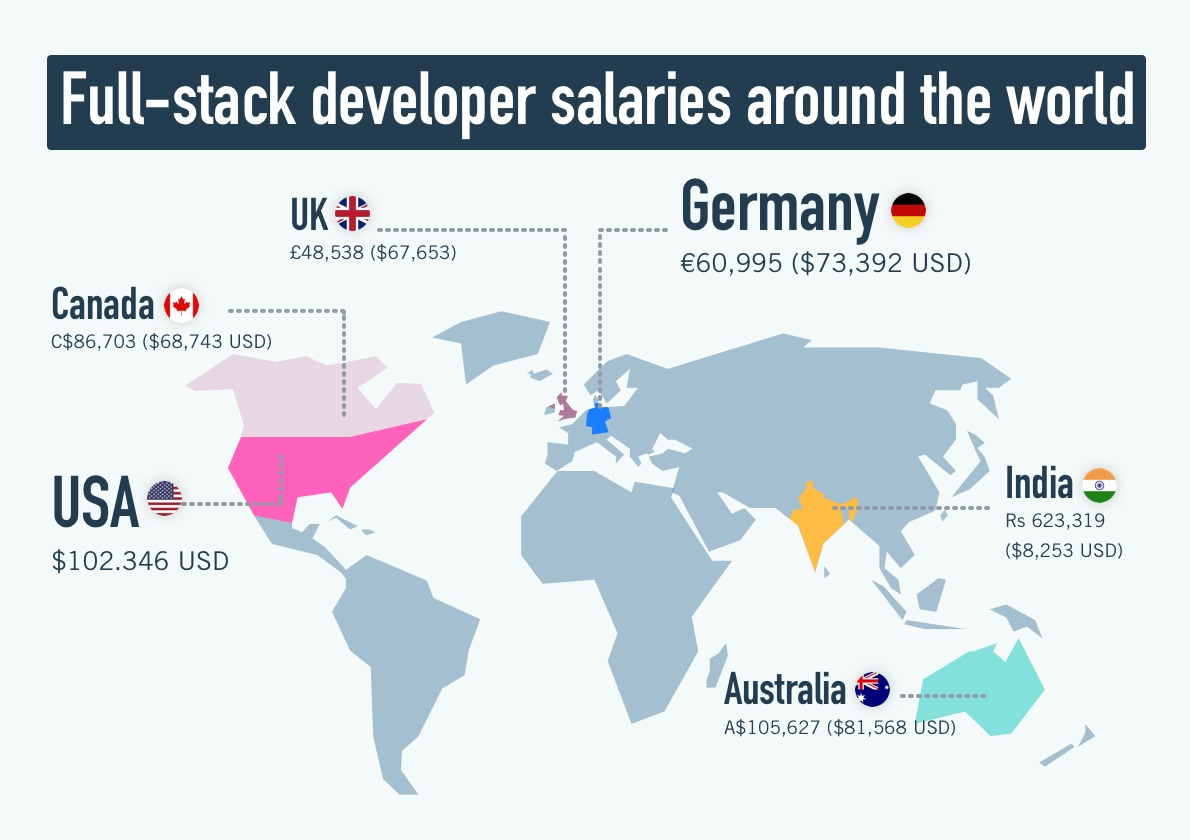 While the full-stack skills and knowledge can vary only slightly from country to country, what's not taken into account here is the varying cost of living, as well as different country-specific salary perks and extras.
Of course, this is just the overview of whole countries—these different factors can differ massively from city to city.
3. Full-stack developer salaries by city
Let's drill down a little more into the data you've seen already, to give you a better idea of not only what kind of wage you should be expecting in the major city you live in, but also the one you're considering moving to.
Our salary data is calculated through comparing figures from Glassdoor and Indeed.com, when applicable. We'll kick things off with North America, a continent which sees the amount of full-stack developer salary you can expect vary wildly, depending on where you are.
North American f
ull-stack developer salaries

Austin: $99,697
Boston: $92,081

Chicago: $98,762

Houston: $89,374

Los Angeles: $99,237

Montreal: CA$

71,848

  ($56,215)
New York:

$

114, 975
Philadelphia: $100,230
Phoenix: $99,668
Portland: $101,818
San Francisco: $138,178
Seattle: $112,401
Toronto: CA$79,000 ($62,408)
Washington DC: $113,050
Vancouver: CA$72,000 ($56,891)
As you can see, there is a bit of a divide between the west and east coasts, as well as between Canada and the United States. Again a lot of this is due to differing costs of living, as well as the tech scenes in each city (compare home of Silicon Valley San Francisco with Houston, for example).
It remains to be seen how much the post-Covid-19 boom in remote working affects these figures, but web developers, and full-stack ones in particular, are among the most likely cohort to be able to retain this after the pandemic.
On top of this, the rising cost of living across the globe is also likely to push full-stack developer salaries higher in the United States in 2023. While it will need to be slightly balanced against any impending economic downturn, developers are generally more immune from this.
Full-stack developer salaries by European city
Now it's time to hop across the Atlantic and see what the pay situation is like there for full-stack developers.
Salaries are given in Euro (don't forget that useful currency converter I mentioned earlier!) and converted when necessary.

Amsterdam: €86,876

Barcelona: €37,154
Berlin: €65,945
Brussels: €59,700
Copenhagen: DKK 469,572 (€63,144)
Dublin: €58,212
Hamburg: €61,057
Lisbon: €44,256
London: £58,642 (€67,668)
Madrid: €36,357
Milan:

€

34,727

Munich: €63,803

Paris: €48,933

Porto:

€

30,696
Rome: €33,855
Stockholm: SEK 735,492 (€67,621)
As you can see, there is even more disparity in salary across the continent than in North America, which should come as no surprise considering the number of countries and respective costs of living.
Another important factor in determining your wage will be the particular full-stack coding language that you specialize in.
4. Full-stack developer salaries by programming language
Different coding languages have different levels of demand by companies around the world, depending on their needs and on the availability of trained developers.
Courtesy of Glassdoor, here's the average salary for the most popular varieties of full-stack developer in the USA:
Full-stack WordPress developer: $75,729
Full-stack JavaScript developer: $114,502
Full-stack PHP developer: $94,914
Full-stack Ruby on Rails developer: $89,251
Full-stack Python developer: $110,493
Full-stack Java developer: $118,062

5. Full-stack developer salaries by industry
Will your wages vary depending on the industry you work in? Just like with data scientist salaries, the area of business that you work in is a major factor in how much you will take home at the end of the month.
This data is taken from the US market at the end of 2021, giving us a snapshot of some of the most popular industries for full-stack developers:
Legal: $84,701
Arts/Entertainment: $83,151
Finance: $90,660
Computer Software: $98,886
Information Technology: $89,050
Insurance: $86,852
Tech: $

112,706

Telecommunications: $88,508
Transport/Logistics: $

82,467

Travel & Tourism: $

89,402

Full-stack developer salaries by industry (2021). Figures for 2023 are in the text list above.
It shouldn't come as a surprise that the industries which typically have large cash flows—finance, tech, IT, accounting—are the ones paying the biggest full-stack developer salaries.
Of course, this is just an overview, and the salary can vary depending on how in demand programmers are in the company.
6. How to negotiate your full-stack developer salary
Now that we've shown you what you can expect to earn based on your seniority level, the languages you specialize in, the industry you work in, and where in the world you're applying for jobs, let's show you how to get the full-stack salary you want.
It's best to walk into the salary negotiation prepared, with the numbers to back you up. We've already mentioned them, but sites like PayScale, SalaryExpert, and Glassdoor are vital tools for getting accurate, valuable insights into what you should be earning as a full-stack developer. Narrow it down to your location and the kind of role, and they will show you the average salary for programmers in your chosen industry.
On top of that, if possible we'd recommend reaching out to your network and asking any full-stack developers what salary they started on in their role. Be sure to approach it delicately—talking about what you earn can still be a sticky subject for some people. However, it's definitely worth it—you'll be surprised how many of your fellow developers are forthcoming with this information.
Between these tips and the salary snapshots we've provided here, you can now approach the negotiation with your potential employer knowing the three most important numbers: your dream salary, your expected wage, and your bottom line.
7. Wrap-Up
These days, it can be hard to know what to rely on in terms of future prospects. However, research and data has shown time and again that there is a shortage of full-stack developers across the world.
In this article, we helped to give you the stats and tips you need to make a plan of action for how to proceed: which position to aim for, which industry to apply to, what level of salary to expect depending on the country you're job-hunting in, and finally, how to negotiate to get the full-stack developer salary you deserve.
If you're looking to learn more about full-stack development, then these articles might interest you: